In our first Meet Your Makers post here, we shared how and where our bamboo material is prepared. That post and video show the first stage of preparation after procurement. 
The bamboo "sheets" are comprised of the planed strips as show in our first post. 
In this Meet Your Makers post, we provide a "workshop view" of the making of one of our more popular cutting boards, the Gaby Crumb Board.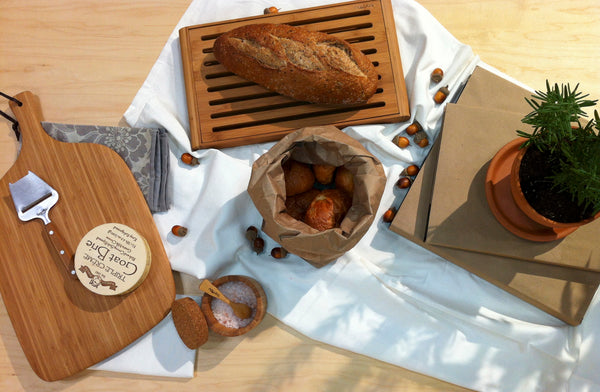 The Gaby Crumb Board
This product was first launched in 2006 when we created the bambu Design Collective. We established a small network of designers in various countries to work with us in designing new products. Among the first designers was Gabrielle Lewin.
Gabrielle is a designer we met in New York. We hit it off instantly. She had a solid portfolio, a good design sense, and is an all-around great person to work with. 
She worked with Rachel, the owner and co-founder of bambu, and developed a number of products together. And continue to today. Among the first is our bread board. 
This design is a more stylized version of our original crumb board, following a similar silhouette to our classic cutting board series with the sleek profile and rounded corners.
(If you have seen our catalogs, or our business cards, you know we're big on rounded corners--NO SHARP EDGES is our motto!).
Pictured above is the beautiful finished board. Ready for cutting and serving, and capturing loose bread crumbs elegantly and efficiently. Shown above with our designed bamboo-handled bread knife. A perfect combination for people who love bread.
Behind the scenes at the workshop, things look different. A series of steps, some simple tools, and several skilled woodworkers are required to produce these boards. This is one of our more complicated pieces to produce and it shows in the final product.
The collage below shows a variety of the tools and steps, and people to make our bread board.
The other output from a finely crafted bread board is dust--and a good bit of it. As in any workshop, dust is a common byproduct of the cutting, sanding, and shaping process. The dust in our workshop here is captured and stored, and later used as fuel. Waste going to use.
In the photo to the left, the team is reviewing the day's work of the Gaby base board.
Once the board is finished, it is inspected for final quality check.  At this stage, each board is hand-oiled using our proprietary formula. (We do not use mineral oil to finish our products. Our oil is made from a combination of vegetable-based oils and waxes and contains no animal-based or petroleum-based ingredients).
Stainless Bamboo-handled Bread Knife $12
Our Gaby Crumb Board has a pedigree! It was designed with purpose, and made with attention and care. It is a board that will last for years. And not just for bread either. It has many uses!  Because the top portion is removable, it makes cleaning a snap. So much in fact, that many customers find this board to also work wonderfully as an ideal Meat board catching the drippy juices in the base.
We have a customer, Song Tea & Ceramics.  They find our Gaby Board makes an ideal Tea Service board because the base captures excess water. 
Our bamboo-handled bread knife is an excellent knife...and actually so much more than a bread knife. It's the blade of choice in our family's home for slicing the turkey or ham over the holidays. There isn't much this knife can't handle. 
It just so happens that on the day of writing this post, we also put to use our own well-worn crumb board. Shown here.....seven years in use and still going strong. Shown here with our absolute favorite bread, Life Changing Bread (recipe here from My New Roots).
The idea behind our Meet Your Makers posts is for you to learn and know more about what goes into the making of our products.
Enjoy!