Bamboo Cutting Boards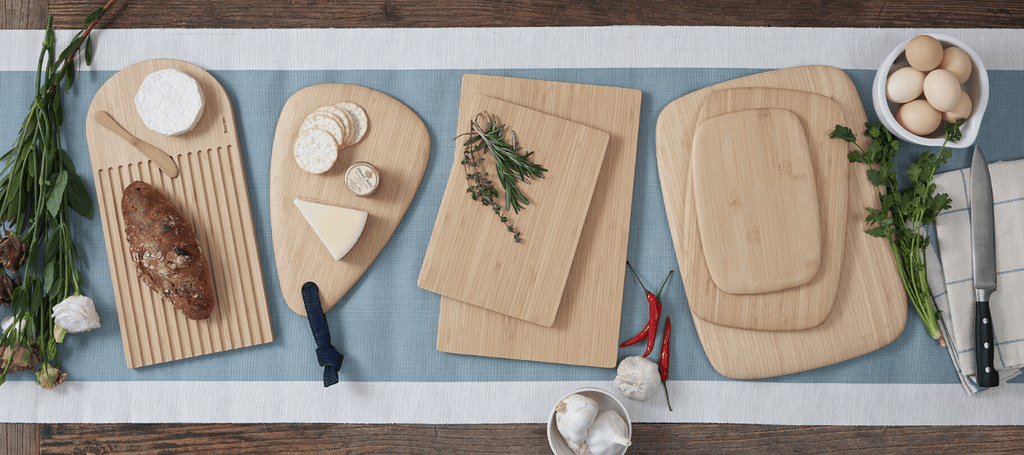 Made from bamboo, our cutting boards are carefully crafted to be durable, safe, and naturally attractive. Bamboo is naturally antibacterial and stain-resistant, and it's the strongest woody plant on earth. You can be confident that your
bamboo cutting board
is food safe, and safe for you and your family. With sizes ranging from mini cutting boards perfect for small spaces to large boards fit for a chef, you're sure to find the bamboo cutting board that's perfect for you.
Whether you're a long-time bamboo lover or are new to bamboo cutting boards, you'll immediately notice the Bambu® difference. Our clean designs highlight quality materials and craftsmanship above all else. We only use wild-grown organic bamboo that's harvested using local knowledge from our farmers in the Fujian Province of China. The naturally occurring bamboo forests on our "bamboo mountain" help reduce erosion and contribute to healthy air quality. Grown without chemicals or pesticides, the organic bamboo used to make our cutting boards is certified each year by a third party and is only harvested once it's reached maturity. Our cutting boards are never finished with harmful glues or lacquers. Instead, they're backed by a Biobased certification and are third-party tested for food safety. After all, shouldn't your cutting board be as clean as the food you're chopping on it?
Our bamboo cutting boards are designed intentionally and made to last. With a unique two-sided design, every cutting board in our collection can be used for cutting on one side and serving on the other.
Bamboo cutting boards are uniquely long-lasting due to the durability of bamboo. It's stronger than wood and more sanitary than plastic. Bamboo resists stains from potent ingredients like beets or turmeric that can damage other cutting board materials. Plus, you can rest easy knowing that your cutting board is made from a sustainable, naturally renewable material.
With care, a bamboo cutting board can last for years. And if it begins to show signs of wear, bamboo can be easily revitalized with a few drops of our best-in-class small-batch finishing oil, made with natural, food-safe ingredients. In seconds, your bamboo cutting board will regain its sheen. Unlike other materials, bamboo cutting boards can be easily returned to a scratch-free state with a few swipes of fine-grain sandpaper.
Learn more about the benefits of bamboo and bamboo cutting board care.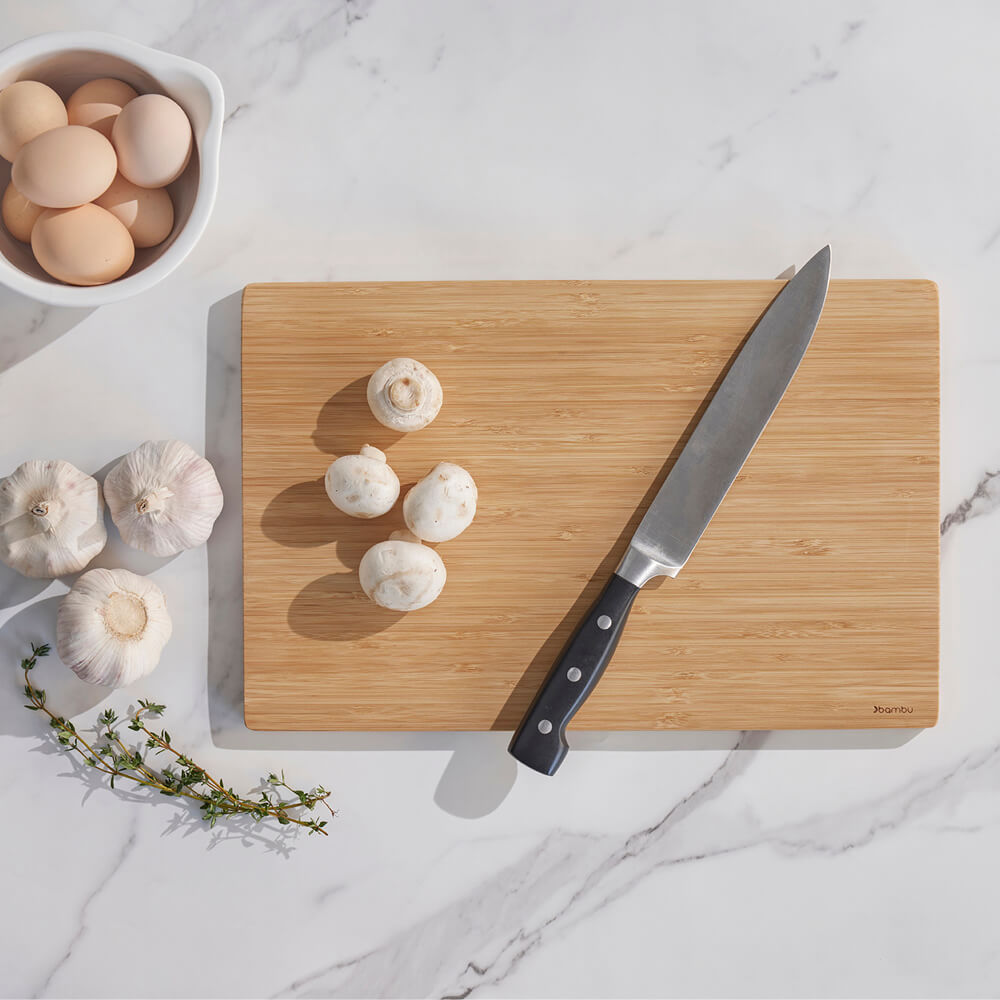 Our best-selling bamboo cutting board
The Undercut Series
Designed to do it all–chop, carry, serve– without spilling or slipping. This bamboo cutting board is crafted with a unique undercut bottom for easy carrying that doesn't take away any cutting board surface area. A sleek, streamlined look makes this board a welcome addition to any kitchen. Three sizes make it easy to find the bamboo cutting board that fits your space and needs. Each board is made of 100% organic bamboo, constructed with food-safe, water based adhesive, and finished with food safe oil.
Shop Now