Finest quality FSC certified bamboo cutting boards & serving trays
These trays are perfect for a countertop coffee tray or charcuterie set. Serve in sustainable style with naturally attractive bamboo serving trays and boards. For options that can transition seamlessly from morning coffee to cocktail hour, look no further. Our certified Organic and Biobased bamboo designs are suited for a variety of occasions thanks to bamboo's warm, light coloring and our timelessly thoughtful crafting. Whether you're planning a lavish event or simply serving a relaxed afternoon tea, this collection will be right at home. Every Bambu piece is hand finished and crafted to last for years to come without cracking, splitting, or chipping. Invite the simple beauty of natural pieces into your kitchen with the Bambu serveware collection.
Made of 100% organic, wild-grown bamboo, Bambu serving boards and trays easily take any drink, snack, or meal to the next level. By choosing bamboo serving trays, you can entertain with ease while keeping your footprint low. Bamboo is a natural, renewable resource that we harvest from the Fujian Province of China using sustainable practices. And we never use glues, lacquers, or other chemicals to finish our boards and trays. Instead, entertain with ease knowing that anything you serve will rest on a safe, non-toxic, and food safe surface. This durable material is resistant to scratches, stains, and odors, which makes it great for sharing many types of foods. And if you do find a stain or scratch on your serving trays, don't toss them! Bamboo can quickly be refinished with a gentle sanding and a bit of oil. And once your tray truly is no longer fit for serving, it will naturally biodegrade, leaving a clean life cycle behind.
Bamboo serving trays and boards are the perfect way to bring a touch of nature to your home or next event. Use our small bamboo serving trays to easily carry everything you need for a complete coffee or tea service. And our large serving boards and trays are perfect for plating appetizers and other small bites. To top it off, use Bambu condiment cups to conveniently serve side sauces, dips, and other spreads. Whatever you choose to share, enjoy timeless style, easy care, and simple cleaning. Bamboo serving trays and boards are versatile, durable, and made to be on display.
Need inspiration for your next event? Check out these eco-friendly tabletop tips!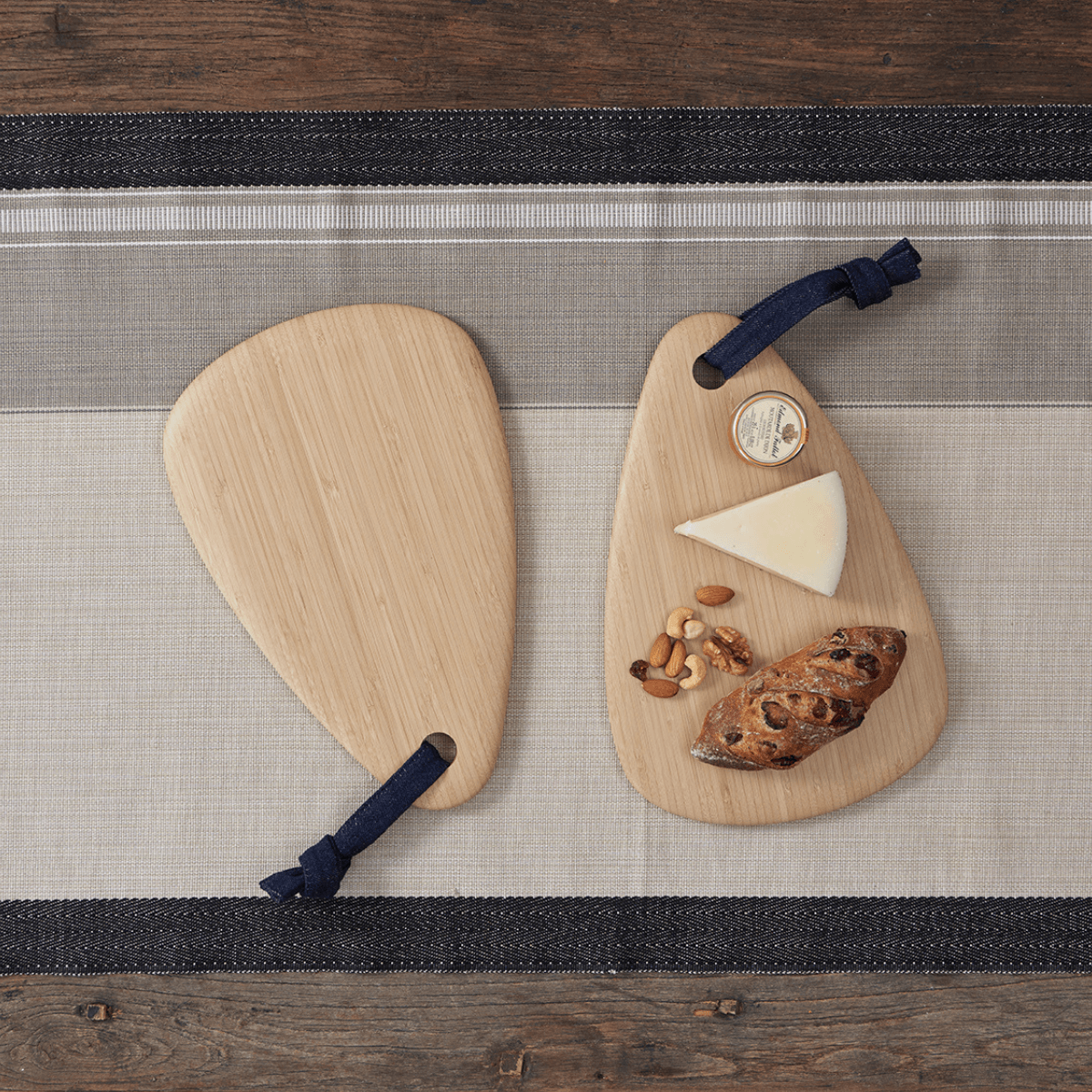 Best multi-functional serving boards
Artisan Droplet bamboo cutting & serving board
Finally, a bamboo serving board that's designed for prepping and serving. Save yourself time and effort with this small but mighty board that's made for double-sided use. Cut and prep everything you need one one side, and then flip it over and use the other side to serve. Crafted with gently curved edges and a cotton handle tie, the artisan droplet board is ideal for charcuterie spreads and other shareables. Use bamboo finishing oil after events to keep your board in great condition for years of entertaining, and pair with Bambu condiment cups for a sleek serving experience.
Shop Now