Even with all the joy of the season, we're likely not the only ones experiencing some holiday stress, and if you're feeling it too, know that you're not alone. Holiday stress is a common occurrence for many, and the good news is that it doesn't need to spoil the cheer.  Spending time outside, even a few minutes, is one of the easiest ways to get some natural stress relief. The many benefits of nature are well documented. And the power of its natural stress relief qualities might just surprise you. If you're short on time this holiday season, you won't want to miss these 6 quick ways to get your nature fix and combat holiday stress, naturally.
What is Holiday Stress?
The holiday season! The sparkling lights, flurries of snow, and getting back in touch with family and friends from all over. You might be feeling stressed, but you might not know exactly why the holidays are causing it. It can seem counterintuitive to feel stressed during the holiday season, but there's a good reason for this. Some of the top stressors in America are money and relationships. These two things are often a big part of the holidays. Spending money on gifts and travel costs? Seeing more family and friends than you might usually?  These are two reasons you could be feeling some holiday stress.  While stress is felt and expressed differently in everyone, there are a few things to look out for. If you're feeling irritable, having trouble sleeping, or feeling anxious or sad,  it might be a good idea to take time for some holiday stress relief activities!
Are the Benefits of Nature for Holiday Stress Relief Proven?
If you're someone who enjoys outdoor activities, you've likely already noticed that spending the day outside offers natural stress relief. This isn't a fluke.  Research shows that one of the largest benefits of nature is its ability to boost health and offer all natural stress relief. Often this is recongnized as the benefits of nature for physical health, but the benefits of nature for mental health are great. Studies show that spending just two hours a week outside improves feelings of wellbeing. Time in nature is shown to reduce blood pressure and lower cortisol, a stress response hormone.  And studies on brain activity have shown the benefits of nature to lessen the act of rumination, the repetitive focus on negative emotions.
Even if you regularly spend time outside, the hustle of the holidays might be changing your schedule.  If you're finding yourself craving some of the benefits of nature to lessen holiday stress, try one of these 6 quick tips to get your nature fix:
6 Quick Tips for Using the Benefits of Nature To Beat Holiday Stress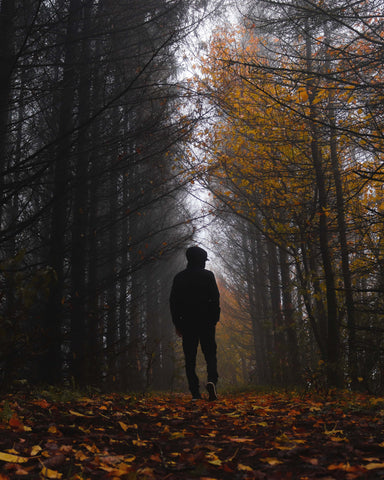 Take a 20-minute nature break. 
Reaping the
benefits of nature
doesn't have to take all day.  Spending 20 minutes a day is proven to boost feelings of health and wellbeing. Get ahead of
holiday stress
by committing to spending 20 minutes each day outside this holiday season.  Are you a morning person?  Enjoy the early start with a quick walk around the neighborhood.  More of a night owl?  Bundle up, grab a warm beverage, and enjoy some stargazing outside your front door.  You don't need to go far to get the benefits of nature. You'll be reaping the natural stress relief rewards just the same.
Listen to the sounds of nature. Heading on a plane or making the drive to be with loved ones?  Switch your typical tunes out for the sounds of nature. Listening to natural sounds like waves, rain, or crickets is a proven form of natural stress relief. In comparison to other sounds, the melodies of nature reduce fight or flight reactions.  And these benefits are greater for those experiencing higher levels of anxiety. Put on this playlist to beat holiday stress wherever you are.
Walk Instead of driving. Forgot something at the store again? If you're close by, take the long way by walking or biking instead of driving.  Exercise is proven to boost your mood thanks to endorphins.  Endorphins are known as the "feel-good chemical" for their powerful mood-boosting effects.  Breaking a sweat causes endorphins to release, giving a natural stress relief bump.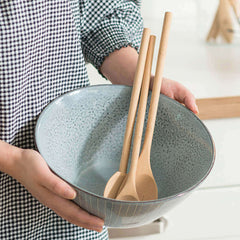 Bring some nature inside. If the cold weather is keeping you inside, bring a little hint of nature with you. Increasing greenery in your house with a plant can improve your mood. The same benefits of nature are found through photographs or paintings of natural scenes. Looking for a festive and eco-friendly decoration? Use holiday plants like Christmas Cactus or Poinsettias for some natural stress relief. In the kitchen, bring in things such as bamboo cookware to enjoy the feeling (and health benefits) of using natural materials while cooking. You might just be surprised how much a few doses of all-natural goodness can boost your mood!
Use essential oils for natural stress relief.
Have you ever felt the sudden calm after taking a deep breath in a forest? Many scents found outside are known for their natural stress relief properties. Using essential oils, which are potent extracts of various plants, can offer the benefits of nature indoors. Diffusing essential oils such as lavender can create a relaxing environment in your home or car. Need a quick response to holiday stress? Keep a stress-relief essential oil rollerball with you for easy access. Using essential oils on pressure points such as the backs of your wrists is a great way to receive the benefits of nature on the go.
Organize a family outdoor activity.
Keep holiday stress at bay by getting the whole family outside. The benefits of nature can create a positive environment, especially when everyone gets some fresh air. Getting your holiday group outside for some natural stress relief can be as simple as heading out for a walk or organizing a front-yard snowball fight.  Want to try a new activity? Look for local trails that are good for snowshoeing or cross-country skiing!  Find an outdoor activity that's appropriate for the whole group's fitness. Enjoying the benefits of nature can provide a fun diversion from holiday routines- and maybe become a holiday tradition itself.
Bring more natural materials into your house this holiday season with certified bamboo cookware. Shop here.