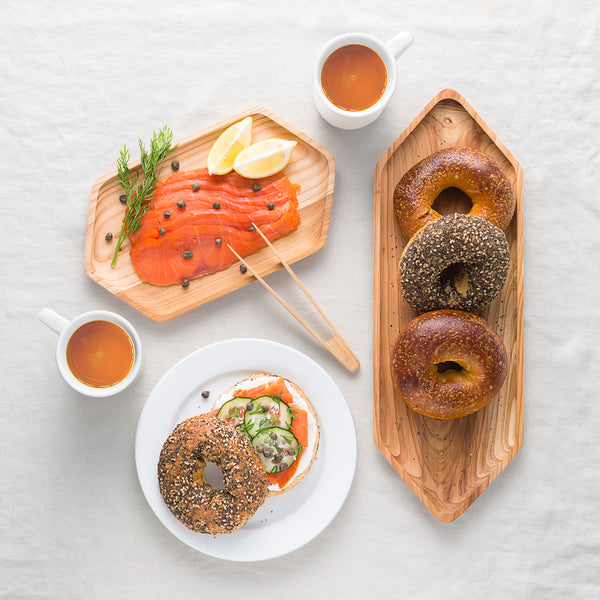 Presenting our latest range. A departure from bamboo. It's our latest wood grain. Reclaimed and upcycled cedar wood. Here's our story of how we discovered it, and got inspired by it.....
On one of our many driving trips to our workshop in Eastern China, we stopped in a small town for a quick rest and a cool drink. And just off the road, we spotted what looked to be a salvage yard that stocked timber and other used building materials. Hmm...interesting. Something we really must check out! 
We did. And we poked around and asked some questions. We discovered used cedar wood lumber. And we learned a few things. During the mid-century, before western building materials were introduced to China, people harvested and used the local wood, naturally. Chinese Cedar wood was a common material for building homes and other wooden structures. The wood has since been salvaged, and is most often by the local people and artisans for carvings and other small projects. 
We excitedly obtained a small sample of the cedar and shared it with our woodworker team. We also sent the wood to an international testing facility. We learned that it was safe, clean, and free of any chemicals or lacquers. This made sense since the Chinese cedar wood is naturally resistant to staining, pests and mold. That was our 'ah ha' moment and the birth of our new line of serving boards, serving trays and new coasters. 
We have designed our collection around the hexagon shape. The hexagon is a reference to the honeycomb and our involvement with the Honey Bee Research Lab and support of bees. (Read more on our partnership with bees HERE). 
Additionally, we have introduce cedar wood coasters with two new motifs - a modern, seasonal riff on the peace sign, and a turn-of-the-century bridge.
These products are shaped from 70-year old cedar wood pieces, reclaimed from old Chinese houses, and are now upcycled for your home. Each board, tray and coaster is hand selected, reclaimed and a true one-of-a-kind. 
Serving Trays
Choose from a variety of shapes and five different sizes. Ideal for serving appetizers, drinks or for coffee or tea service. Or as a catch-all on a table in your home.  
BUY NOW. Learn more and get size information here. Prices start at just $14.00 
Serving Boards
Select from our distinctively shaped cedar serving boards. Present charcuterie or use as a cheese board, or present both on these beautiful serving boards. Shop here. Prices start at $10.00
Drinks Coasters
Our bamboo coasters have been a customer favorite for years. (see our bamboo coaster selection here). We are offering two new modern coaster motifs now available in our reclaimed cedar. A message of Peace in a modern and fresh interpretation. And a turn-of-the-century, yet timeless bridge. Both sold in sets of 4. Cost: $15.00
Our reclaimed cedar makes a beautiful serving piece. Each and every piece is unique because each wood grain has a unique history. The wood itself is very lightweight and washes up easily. Clean up is as easy as it is with bamboo.
Even though we call ourselves 'bambu' we always intended to work with a palette of renewable materials. This 'found' cedar is our first work with a reclaimed, upcycled material.
We hope you enjoy what we create and nature provides.