Bambu is teaming up with Gritty Gourmet to bring you easy recipes, cooking tips, and more! With the holiday season upon us, we're celebrating the joy of cooking with kids by sharing a simple cookie recipe that's made for baking alongside younger helpers.
Why we're loving this quick to make, easy to bake cookie recipe:
10 simple ingredients that most will already have on hand (no last-minute trips to the store)

Straightforward directions and simple steps makes this an easy recipe for kids to follow

Frosting-free and no sharp tools needed. This recipe is safe for younger cooks

A unique storage technique means that you can make the dough now and save it for easy baking later
No matter how you celebrate the holidays, at least a few sweet treats seem to be a part of the festivities. And when it comes to getting little chefs and bakers excited about spending time in the kitchen, making cookies just might be the easiest way to sway them over. This simple cookie recipe is a time-tested kid favorite and the perfect mix of simplicity and fun (minus the mess that comes with decorating cutout cookies).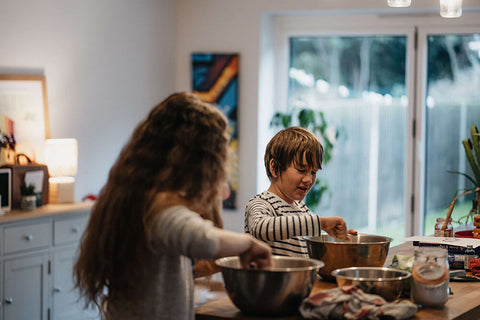 A Make-Ahead Favorite
If you've never made icebox cookies before, they're sure to become part of your yearly tradition. The typical icebox cookie features simple yet tasty ingredients, and can easily be made ahead of time and frozen for weeks before use. This recipe uses two spices and a sprinkling of walnuts to bring festive flavor. And it can be stored in the refrigerator for up to a week, or in the freezer for up to a month. If you do freeze your dough for later, simply give it an hour to unthaw before baking.
When it comes to baking with kids, icebox cookies are a great choice for several reasons. First, because you can make them ahead of time, you won't have to worry about an unforeseen mess right before a celebration starts. Instead, you can plan a day that's best for you to enjoy time with your younger helpers. Next, because the recipe is simple and uses minimal dishes, kids can do more of the work without your help. Plus, littler ones of any age will enjoy the activity of rolling the dough into its log-shaped form. And you won't need to worry about sharp cookie cutters or messy frosting fights!
A Few Tips on Baking This Recipe With Kids
Depending on the age and cooking comfort level of the children you're baking with, this recipe can involve kids in a few different ways.
For older children who are comfortable with cooking and kitchen tools, this is a great first recipe for them to take on with limited adult help. With no sharp tools needed, kids can measure, mix, and prepare the cookies all on their own. Bonus: offer a feeling of responsibility by gifting children with their very own set of cooking utensils!
For kids that are excited to learn about cooking but still need some help, consider pre-measuring the ingredients for them. Place small quantities in condiment cups to ensure that the recipe turns out as intended while still allowing younger helpers to experience the fun of mixing.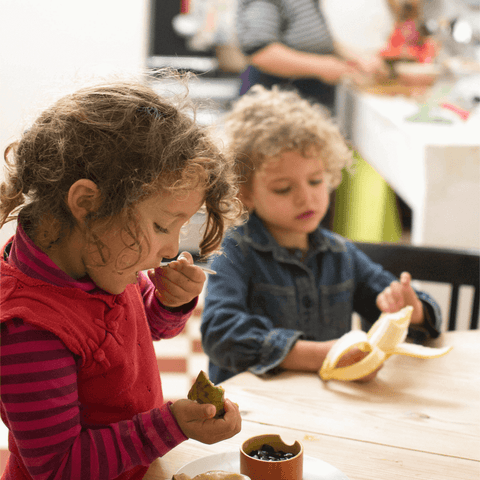 The new bakers in your group might do more watching than baking, but they can take turns mixing the ingredients. And without a doubt, they'll enjoy rolling the dough logs that make this recipe so easy to store.
Easy Icebox Cookie Recipe
Ingredients:
1 ¼ cup brown sugar
½ cup honey
1 cup melted ghee (or butter)
1 teaspoon baking soda
2 eggs (or egg substitute)
1 teaspoon cinnamon
¼ teaspoon allspice
2 cups all purpose flour, plus an extra tablespoon for rolling the cookies
½ cup whole wheat flour
½ cup chopped walnuts
Eco-friendly cookware and tools:
Non-stick cookie sheet
Large Mixing bowl
Measuring cups + spoons
Non-stick parchment paper
Directions:
In a large mixing bowl, combine all ingredients except for the walnuts. Stir to mix well and ensure that there are no lumps in the mixture.
Then, fold in the walnuts and mix until just combined.
Cover your countertop with a dusting of flour, then place ¼ of the cookie dough on the countertop. Gently use your hands to roll the dough to form a 1-inch thick log. Place the log of dough onto a sheet of parchment paper and roll it tightly to cover the dough on all sides. *Tip: leave extra parchment paper on either end to easily roll up the ends for mess-free storage.
Repeat this process with the remaining dough. Then, place all dough in the refrigerator for at least four hours or until the dough is firm.
When you're ready to bake your cookies, preheat the oven to 350 degrees. Remove dough from the refrigerator and remove the parchment paper. Place the dough logs on a cutting board and cut them into ¼ inch slices.
Arrange the cookie slices on a baking sheet about an inch apart and bake for 10-12 minutes, or until the bottoms are golden brown.
Once cooked to perfection, let cookies cool for 10-15 minutes before serving.
This easy kids cookie recipe makes about 30 small cookies.
Why use bamboo for kids cooking utensils?
Bamboo cookware has many benefits. Cookware and utensils made from bamboo won't harm, stick to, or scratch your dishes. And even more importantly, they won't harm you or your loved ones. Bamboo cookware is naturally non-toxic, and you can be sure that any cookware and bamboo utensils made by Bambu are certified and sustainably sourced.  And, our line of kids utensils and cookware are tested and certified to meet Consumer Product Safety guidelines for children's items. While other bamboo utensils are often made from several pieces of bamboo that need to be glued together and covered with heavy lacquer, bambu crafts all of our utensils from a single piece of organic bamboo. No glue, lacquer, or chemicals needed. We pride ourselves in making kids cooking utensils that spark joy and love of cooking with safe, renewable materials.
Looking for more ways to get the little ones involved in the kitchen? Sign up for emails to be the first to know when new recipes come out.
Shop 100% organic and certified safe cookware and utensils for babies, toddlers and kids!