| Read |
This Natural Filter For Ocean Pollution Already Lives In The Water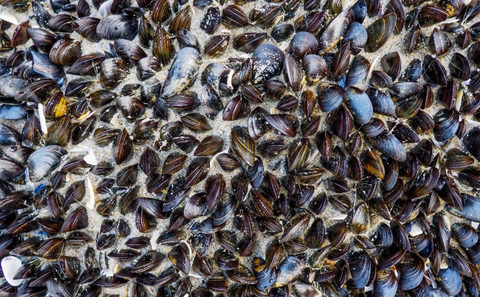 New studies are finding that mussels are a natural filter for microplastic pollution. Without causing any harm to the animal, mussels ingest microplastics smaller than 5mm and then excrete them, removing pollution from the water. One mussel can filter up to 15 gallons of water a day, achieving something that otherwise requires much equipment and time.
| Watch |
This short video showcases the power of regenerative agriculture to create rich, healthy food and a vibrant ecosystem. By working with instead of against the diversity of life that exists on their farms, these farmers are developing a system that leaves their land better as the years go on.
| Do |
Eat Out Sustainably with The Ocean Friendly Restaurant Finder
Planning your next date night? Use the Surfrider Foundations Ocean Friendly Restaurant Map to find a new spot you can feel good about supporting! Restaurants on the map are making sustainable choices in ingredient sourcing, saying no to single-use plastic products, and working towards making their buildings as low-energy as possible.
What we're eating this month...

Pan-Roasted Caramelized Peaches

Perfect for cooking out or camping out, this easy dessert recipe highlights the sweet taste of summertime fruit (and you can make it right on your stovetop in 10 minutes)
From The Blog...
The Single Use Plastic Problem Hiding In Your Kitchen
Single use plastic is taking up more space in your kitchen than you probably know. Here's how...and the simple swaps you could be using instead.
10 DIY Wedding Hacks That'll Save You $1,000's
These DIY wedding hacks can keep money in your pocket and help you create a beautiful, low impact celebration.
One Last Bit Of Good News...

We've selected the Portland chapter of the Surfrider Foundation as the recipient of 10% of all sales made during our plastic-free promotion! If you purchased from Bambu between July 15th-19th, your purchase is helping support efforts to reduce single-use plastic pollution. Learn more about the work Surfrider is doing here.
Did you miss it? Don't worry- no matter what day it is, we donate 1% of every single Bambu purchase to organizations working towards a healthy environment.
Each month, The Shift shares positive gains within the environmental movement, gives you tips to create an eco-friendly lifestyle, and shares the stories of changemakers that are using their voices for good.