Stainless Food Containers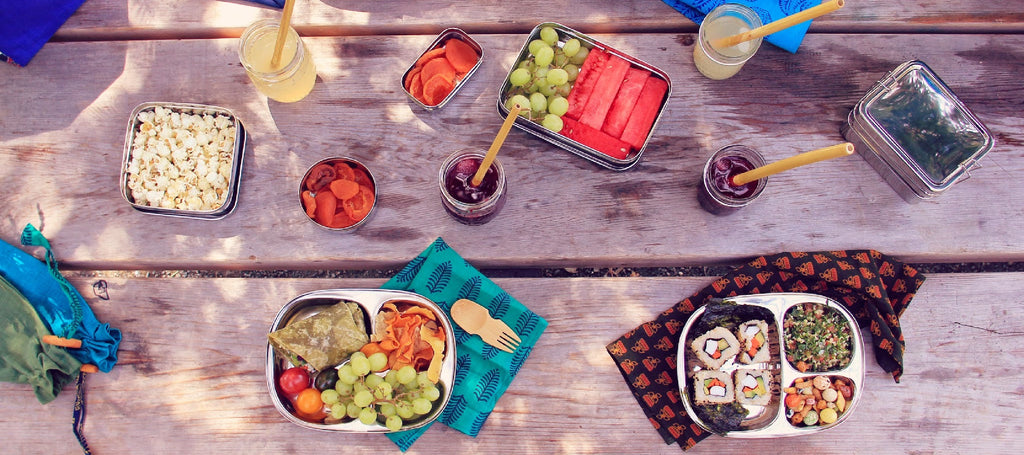 Complete your plastic-free kitchen with high-quality stainless steel food containers. While there are numerous options in the marketplace, we chose to offer the ECOlunchbox brand to our customers for several reasons. They are a mission-based company, and they're also a B Corp, just like us! Their products are the ideal choice for those ready to create a low-waste lunch system with food-safe products. With many options, you'll easily find something for the kids' lunchboxes and for your office, too.
Why choose stainless steel food containers?
For many years, plastic food storage containers have been the norm in most kitchens. But as more of us begin to ask questions about the safety and sustainability of products, other alternatives are gaining popularity. Here's why we choose stainless steel.
We believe that what you use to cook and store your food should be as clean as the ingredients you eat. Whether you're packing lunch for your children or planning your own week, what you choose to store your meals in can affect the health of your family, and the planet. As studies prove, plastic does not offer a safe option for food storage. Stainless steel, particularly the high-quality, food-grade source used by ECOlunchbox, is a food-safe material that's free of toxic chemicals. Unlike plastic, stainless steel will never leach chemicals into your food or impart flavors into what you have stored in it.
Stainless steel food containers also offer a long-lasting, durable option for food storage. While plastic containers may warp when exposed to high heats (such as in the dishwasher), steel won't. With stainless steel food containers, you won't need to worry about the discoloration that causes plastics to turn unsightly colors. Instead, stainless steel offers a stain resistant option that will look like-new for years to come. Even when faced with harsh colorants like beets or turmeric, stainless steel is only a quick wash away from looking as good as new after every use.
And when it comes time to say goodbye to your stainless steel food containers, you'll find that once again, they offer a cleaner solution. While plastic is recycled at a very low rate (less than 10%), stainless steel is one of the most commonly recycled materials. Each year, around 70% of steel is recycled. And unlike other materials, steel is infinitely recyclable. This solution offers a waste-free life cycle with no end in sight.
While ECOlunchbox offers a large variety of food storage containers, we've selected a few core items that are bambu tested for their ease and durability. And, you'll notice that there are no options offered with silicone lids. Because we are not 100% convinced of the safety of silicone (and because it's not a biodegradable or recyclable material), we've chosen to only offer 100% stainless steel food containers.
The best stainless steel food containers
Eco Lunchbox Three-In-One
A complete lunch solution, in one compact box. The ECOlunchbox three-in-one is an entirely plastic-free stainless steel food container that makes packing and enjoying your lunch mess-free from start to finish. With two separate compartments for storing different types of food, plus a small container that's perfect for sauce or salad dressing, you have everything you need. Pair it with the bambuEat and Drink Toolkitfor the ultimate zero-waste lunchbox. Easy enough for kids to use, refined enough for your office, too.
Shop Now