Organic Bamboo Straws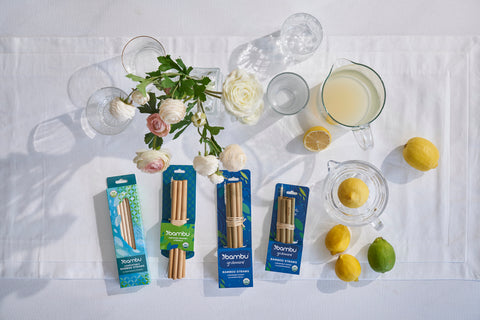 Our plastic-free straws are here to help you switch to an eco-friendly straw solution for good. Ditching single-use straws has never been easier than it is with our
reusable bamboo straws
. Sip happily knowing that all our materials are made without glues, lacquers, or chemicals of any kind. Choose from long, short, or jumbo straws (they're perfect for smoothies), and clean them easily with our plant-based straw cleaning brush. Our organic bamboo straws will last you for years to come.
Here at Bambu, we're no stranger to crafting high-quality alternatives to plastic straws. In fact, we were the first company to bring bamboo straws to market, back in 2012. Now, we offer several sustainable alternatives to plastic straws. And, the only line of certified organic bamboo straws. We pride ourselves on making the best quality bamboo straws available and that starts with the right materials. Which is why we choose organic, and why every one of our bamboo straws is crafted from a single piece of bamboo. Bamboo is a natural choice for a sustainable straw thanks to its attractive look and durability. With a subtle neutral color, your organic bamboo straws will complement any tabletop or event, and they'll last for years to come.
Glass straws are another great alternative to plastic, and we use medical-grade glass to craft ours. This ensures that you receive a pure, beautiful straw. And, that it's shatter-proof and ready for daily use. If you prefer a clear straw that offers a bright addition to your beverage, our glass straws are made for you.
Are you looking for a disposable straw solution that's still low impact? To offer a plastic-free, yet still disposable, straw, we created our Veneerware line of compostable bamboo straws. These disposable straws are made from certified organic bamboo and are more durable than paper straws. Plus, they'll fully biodegrade 6-8 months after they're used. For your party and event needs, choose a compostable straw that looks great, lasts through the night, and then cleanly composts away.
Our top pick for organic bamboo straws
Reusable, Organic Bamboo Straws
The organic bamboo straws that started it all. Our original set of six bamboo straws are crafted from our wild-grown bamboo, and hand finished for a smooth look and feel. You'll love the natural green coloring and their length, which fits a range of glass sizes without looking too big (or too small). The fun of straws is a great way to get kids excited about mealtime, and to help encourage them to stay hydrated, even when it's just water! When you need to clean your bamboo straws, use the included straw brush for easy washing, then let them air dry. Simple care will keep your straw looking like new for years. And, consider using acork straw sleeveto keep your straw clean and safe when you're traveling.
Shop Now