Welcome to Spork Week. Spork week officially kicked off on August 24th here at bambu. We'll be sharing daily Spork facts and trivia bits on our social media sites and offering 15% off our whole range of Sporks!
There are metal sporks and plastic sporks, but there is only one brand of bamboo sporks. We make five (5) different styles and all are available at our bambuShop. Many people are surprised at the number of steps required to make a bamboo spork. A few small machines, several skilled hands, a lot of steps, and USDA certified organic bamboo. If you order before August 30th, use the code: bambuSpork15 for a 15% discount on any and all our spork options.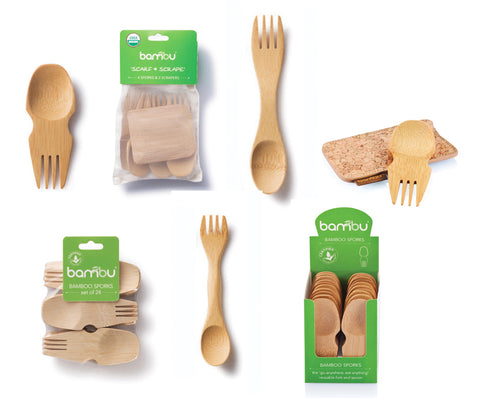 We have seven (7) different ways you can get bamboo Sporks and five (5) different styles. Here's the line up.

Check out our Sporks, and use the code: bambuSpork15 at check out to get your discount. 
Our infographic provides an illustrative journey of the making of our spork, here.
Please enjoy our little film we like to call 'sporkchronized' Dancing.....
Fun Spork trivia:
President Clinton used a Spork 'as a symbol of his administration' because of its dual nature. He is quoted,
'this is a big new idea, the spork.'
The go-anywhere multi-functional Spork - the ultimate utility utensil!