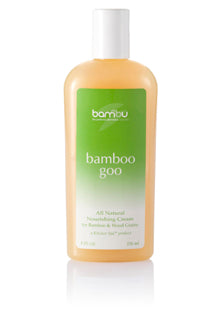 Bamboo Goo - the product for your other products. And not just bamboo, either.  This post delves into the details of our famously popular Bamboo Goo and explains what it is, what it isn't, and the multitude of uses you can get from a single bottle.
You see, our bamboo goo is deserving of its own blog post. It is one of those products that people unanimously love once they discover the stuff. Time and time again, people tell us that they use it for a variety of surfaces. Not just bamboo products. 
We came up with Goo because we wanted to offer something better than was available on the market. We wanted to offer a product that was all natural, and that was safe and effective. People often use mineral oil, but we wanted to offer some better for our customers. A product that is more environmentally friendly, all natural, safe and petroleum-free. And so, Bamboo Goo was born.
Because bamboo is a natural material, it can lose its natural moisture when used and dried frequently. Goo nourishes and revitalizes your natural wood grains. 
What Bamboo Goo Isn't
It isn't a mineral oil. Mineral oil is made from petroleum. If you are thinking consciously, you naturally want to think about alternatives to products derived from petroleum. Especially when you are applying on food surfaces. Steer clear of mineral oil. 
It isn't just for bamboo. This blend works exceptionally on all natural grain surfaces. Wood surfaces tend to dry out over time. Especially if you are wiping, washing and drying frequently. Our goo revitalizes woodgrain by adding back lubricating ingredients to make the wood or bamboo healthy again. 
It isn't mandatory. Yes, that's right, you don't need it. (You don't hear that from sellers very often, we know).  It is not required for your cutting boards. We have several customers that like that 'rough hewn' used look to their bamboo cutting boards. Make them feel 'worn and used.' We totally get it. But a good goo every month will ensure your boards stay healthy, nourished, and look great for years to come. And you can bring back to life those tired, worn and dry pieces with Goo. 
Other bamboo products most often have a shiny lacquer coating that can chip and flake and leech into your cooking. At bambu, we produce our cutting boards and utensils, and kids products without a lacquer. 
HOW TO USE: Simply apply a small amount and rub into to the surface area. Let it soak into the grain for a few minutes before wiping it off. No rising is necessary because it's food safe and all natural.
What Bamboo Goo Is
It is a proprietary blend of natural waxes and oils. We worked with a local company to develop this blend specifically for bambu. It had to be All Natural.
It is made in the USA. The group that develops Bamboo Goo is a family-owned, US-based, small business. All the ingredients are sourced locally. 
It is food-safe certified, and shelf stable. A bottle of Goo will last you years. In cooler temperatures, it may solidify. But that is normal. The ingredients are all food safe (In fact, most of the ingredients are derived from agriculture sources).
It is super effective. See for yourself. Observe one of our cutting boards, built in 2005. This cutting board has been treated with Bamboo Goo about every 3-4 weeks. The natural grain is a deep rich golden brown. Not dried out and splintered even though this board is used every day. The rich bamboo grain is retained to its original condition, even after 8 years of use.
It is fragrant-free. Only natural waxes and oils are used.
It is long lasting. A little goes a long way.
It is versatile. For your furniture, floors, toys, tabletop surfaces and effective on all wood grains. All natural Goo will nourish all your wood grains exceptionally well. That is because it is made from oils and waxes derived from natural. 
It is environmentally sound. Not only are the ingredients all natural, but the bottle and cap are eco smart too. Made from PETE it is recyclable just like the soda bottles. 
Read what customers say about Bamboo Goo. Shop for Bamboo Goo here. An 11 oz. bottle retails for only $11.50. One bottle will last you months. Try us out!
The benefits of using green products means that you are exposing you and your family to fewer toxins. Using safe, and environmentally friendly products is better for your family and the environment.