Scrap Story Part Two. It's a scrap sandwich! We reported previously from the pages of bambu, the installation of used chopsticks in Shanghai here.
Here's another scrap story.
First, Big Bambu and now, Small Bambu. Big Bambu was an installation art piece by the Starn brothers from Brooklyn. They constructed a fabulous structure of bamboo atop the Museum of Modern Art. We covered that in our bambu blog in the second part of our Sightings post, here. An article in the New York Times is here.
Small Bambu is a different creation. An installation of different scale...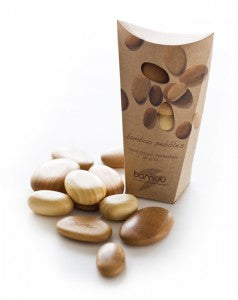 The mystery of the numerous Bamboo Pebbles purchases has apparently been solved. At least partially.
Our friends at Green Pioneer share with us that a private customer from Germany has been buying an unusual amount of our bamboo Pebbles. bambu developed decorative Bamboo Pebbles as a way to utilize the excess material we have.
This particular customer in Germany is creating mini sculptures using our Pebbles and then photographing them. A few examples are below. It isn't clear where this is headed.
Our Pebbles never looked so good. They are professionally lit. These creations highlight the varied and beautiful organic shapes. If anyone has been hiking and has ever come across trail stones that have been similarly stacked to mark a trailhead, or a marker to show a change of direction, that's what these remind us of.
The best part. A reminder that you can make cool stuff happen with scrap. You can find Bamboo Pebbles from bambu, right here from our bambu Shop.