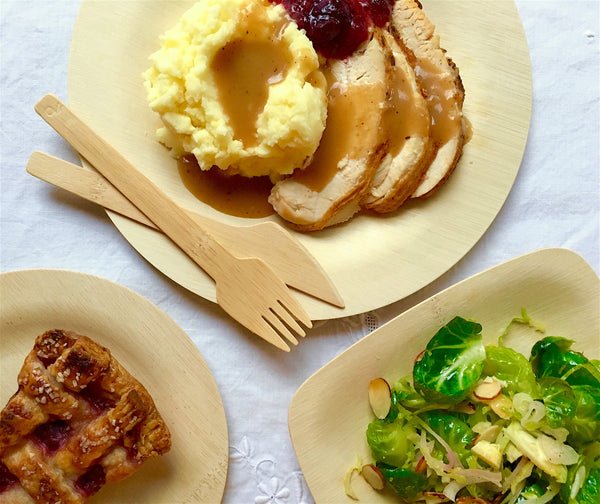 When it comes time for holiday celebrations, first we consider the guest list, and then the menu and festive decor. But when all is said and done at the end of a joyous evening, what's left is a mountain of dishes! Enter the Bambu All Occasion Veneerware®. Our disposable bamboo eco plates and flatware are a convenient and stylish alternative to piling up the kitchen sink when you're feeding the whole family or hosting a communal "Friendsgiving."
It's classy and compostable—the perfect answer to other types of disposable dinnerware. Plus, they come in a range of shapes and sizes to serve at every course, and holiday cocktail parties too. Our diminutive square tasting plates are just the right size for an elegant hors d'oeuvres, and are perfectly accompanied by a charming little spork.
Dinner settings come in several sizes, from 7-inch salad and dessert plates to 9-inch entrée plates in round or square, and our 11-inch round buffet plate is ideal for loading up with turkey and all the fixings. With matching bamboo spoons, forks, and knives, you'll have each place setting covered.
When we developed Veneerware® over a decade ago, the only option for disposable tableware was paper or plastic. Today, while there are more options in disposables, we are proud to say ours still stand alone in quality and consistency. The bamboo we use is grown without fertilizers, cured and then hand cut and selected for peeling. Every year we have our sources audited, and we can still say that we're the only company with Certified Organic products for the kitchen and table. We've gone even further by earning Biobased certification, and becoming Compost Approved. You can't get a cleaner, greener, better quality disposable plate.
And yes, you can use them more than once!