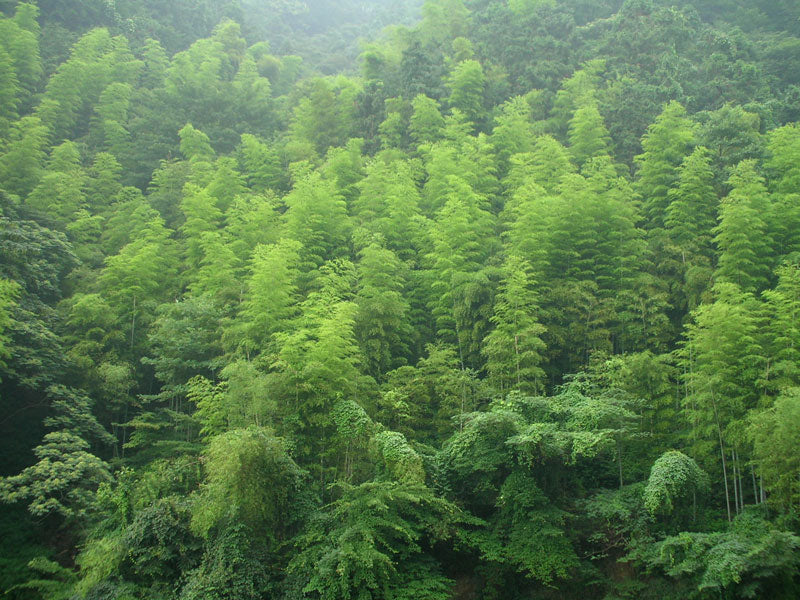 * Bamboo provides millions of jobs to lower income communities:
The bamboo industry provides a regular income to over two billion people in the world; in addition to being used for products for the home, it is capable of 'morphing' into everything from cutting boards to calculators. The World Bamboo Organisation reports that the industry generates approximately $US 10 billion a year, a figure that is set to double by 2018. Moreover, bamboo is considered by farmers to be a relatively easy plant to work with, since it requires virtually no maintenance and is harvested every two to six years.
The bamboo material used by bambu is grown in the wild on land that is leased to individual farmers. 
* It is environmentally friendly:
Bamboo is a top choice for the reforestation of depleted areas, because it has incredibly fast growth rate; it grows up to almost 50 inches in just one day and can reach its full height in around three months; indeed, an entire forest can be grown in three to five years! Moreover, 'the great grass' has incredibly carbon sequestration properties; one hectare of the Moso bamboo in China, for instance, can absorb up to 250 tons of carbon (which is equivalent to the annual carbon footprint of 160 people living in China). In the new millennium, the passion for all things 'green' is certainly more than a fad. Beyond beautiful tabletop products, uses for countertops, cabinets and islands are exploding. Increasingly, home owners are also outlaying the investment necessary towards building green kitchens, powered with natural gas. Unlike some other biofuels, the 'climate-friendly factor' of natural gas is generally uncontested, largely because of the simplicity of extraction and supply. The process basically involves feeding organic waste to a plant that converts the waste into a potent biogas that can be used to power a home; residual matter, meanwhile, makes an excellent source of compost and fertilizer. Bamboo utensils follow this wave to its natural end, making for a kitchen that is fully sustainable, down to the tiniest details.
*Bamboo Stands the Test of Time:
It may technically be a grass, but bamboo is as strong as steel! The World Bank recently pledged its support to a project in Ecuador called 'Elevated Houses to Protect Communities in Flood Zones'; the idea is to use bamboo to provide flood-proof housing for economically challenged communities. If bamboo is strong enough to weather the toughest of storms, it is most definitely an ideal choice for everything from cutting boards to utensils, and even beautiful bowls for enjoying your favorite food.
With roots in Portland, Oregon, since 2003 Bambu has designed, developed and manufactured handcrafted, modern home products made from renewable materials such as bamboo, cork, coconut and soy. The company is headquartered in Shanghai, China, where it produces more than 150 different products in its own production workshop and partnering facilities, all of which are located close to their raw-materials sources. Bambu products such as its cutting boards are sold in more than a dozen countries. 
(Guest Blogger - Mellssa Hathaway) Missi is a graduate of International Business and Journalism. She currently works as a freelance writer, creating articles on topics from global economics to sustainability issues. She is a mother of two and enjoys hiking with her family)