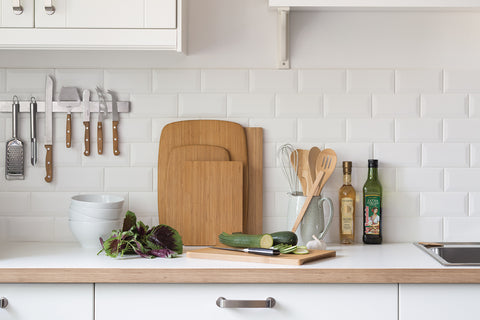 If you're shopping for the best cutting board, you may have already come across all kinds of conflicting advice as to which choice is best. You have to think about a cutting board that is both sanitary and eco-friendly, but that also treats your knives well too. If you invest in your knives, then it pays to invest in your cutting boards.
For good reason, many people prefer that natural grain of bamboo and wood cutting boards in their kitchen. And most experts agree that it is a good idea to have more than one cutting board. People will often designate a board for meat and a board for vegetables. And of course, cheese lovers will want their own board for cheese.
Each material offers advantages and disadvantages. Wood and bamboo offer numerous benefits and advantages over traditional types of wood. They are lightweight, they look absolutely beautiful, and bamboo is easy to clean. What's not to love? So let's discuss some of the main benefits of bamboo cutting boards and why they are a prized addition to your cookware collection.
Choosing the Best Cutting Board
There are several kinds of cutting boards: plastic, glass, wood, and bamboo. Granted, you may believe that bamboo is, in fact, another type of wood. But technically speaking, bamboo actually belongs to the grass family. Bamboo is also the fastest-growing plants in the world, one of the reasons that make bamboo such an ideal material to work with. Some species are known to grow as much as three meters a day. (You can literally watch the grass grow!). 
So, how do you decide what's the best kind of cutting board you should choose? There are pros and cons to each type:
Plastic cutting boards,

for instance, seem the most sanitary, but a research study from UC Davis reveals that plastic promotes bacteria growth more than wood. Another thing to consider is that, when using plastic cutting boards, tiny plastic pieces potentially make their way into your food.

Wood cutting boards

are a good alternative, especially since they're gentle on your knives and won't quickly dull them. Such cutting boards don't scar easily, however, you will need to oil them frequently in order to protect the porous wood against bacteria infiltration and moisture. 

Bamboo cutting boards

have become favorites among professional and amateur chefs alike. While they're similar to wood in the sense that they are robust and gentle on your knives, they are less porous and considered harder than wood. Bamboo also absorbs less liquid as compared to their wooden counterparts. There's one thing to be mindful, though: when shopping for a bamboo cutting board, make sure that you seek formaldehyde-free glued boards. bambu's classic cutting and serving boards are manufactured from sustainably harvested bamboo and represent a great, long-lasting choice. Each individual board is handcrafted and is finished with a natural food-safe oil finish.
In regards to what is the safest material for a cutting board. Well, it really comes down to how you clean it.
Read more >
Bamboo Cutting Boards: Superior Choice
There's a reason why bamboo cutting boards are preferred by so many chefs. For one, bamboo is the most eco-friendly material: it's a sustainable, renewable resource. 
Another advantage is the fact that fewer knife marks are left on bamboo cutting boards, and as a result, there will be fewer ridges for bacteria and food to get caught in. That's one of the reasons why bamboo cutting boards are considered more sanitary than other cutting boards. Bamboo is a particularly dense material. And the material is naturally resistant to water penetration. Bamboo also has a natural resistance to staining.
Bamboo cutting boards generally require lower maintenance. While the ritual of caring for your cookware may be enjoyable, there are times when the convenience of low maintenance is preferred.  Whatever your choice, bamboo or wood, it's never a good idea to use the dishwasher to clean your cutting board. The extreme heat can seriously damage to your cutting board. 
Let's not eliminate aesthetics among the benefits that bamboo cutting boards offer. The light wood color and the natural look of bamboo is beautiful. This is one of the reasons why numerous designer kitchens have decided to feature large bamboo cutting boards as the chic and stylish in a modern kitchen.
So as long as you care for your bamboo cutting board, you will have a kitchen tool that you will enjoy for years. 
Check out the bamboo cutting boards designed by bambu. bambu has been making the finest bamboo cutting boards since 2003. Many bamboo boards are made with a wide horizontal grain. These are more prone to breakage. bambu makes its cutting boards using vertical grain construction creating a stronger, more durable cutting board.
If you choose to buy wood or bamboo, look for an even consistent grain and smooth finish. Many lower quality bamboo cutting boards and wood cutting boards are finished with a lacquer coating to smooth over imperfections in the material or construction.
Check out our three best bamboo cutting boards below: