This posts gives a 'tip of the hat to a product that has been in our range since the very beginning.  It is our nonsense, do-everything bamboo scraper. We call it our Pots and Pans Scraper, but that doesn't do this little hero its due credit. Because it is, oh, so much more.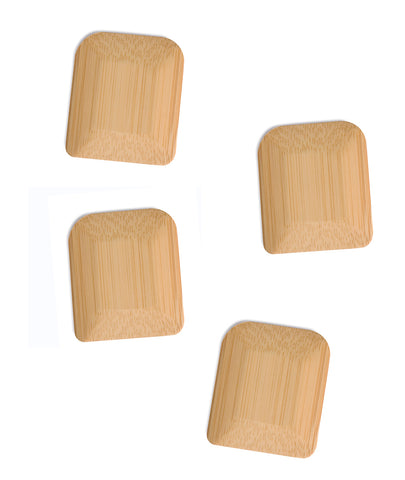 We could call it our 'all in one' bamboo tool, and you'll see why as you read on. Even though it sits unspectacularly on your kitchen sink, it is actually a 'swiss army knife' ready for action in the kitchen and out and around.
Firstly, as it was intended. It gets after pots like nobody's business. It's sized so you can get a solid grip on it, and go to work. We have designed it with four edge angles so it can get into the grooves and corners of all your pots and pans. 
The great thing is, these are better than plastic. It's not derived from a petroleum based product, and it doesn't bend like plastic. And they won't break the bank. 4 Pot & Pan Scrapers will cost you $9 here at bambu Shop. 
In fact, if you're wanting to move to a greener, eco kitchen, well, this is a great place to Start. Read our post on 'Making the Switch to an Eco Kitchen' here.
These bamboo scrapers are made from certified organic bamboo. Without chemicals, or pesticides. These little diddies are made without glue, and we never use lacquer either. Just sturdy, lightweight, eco friendly bamboo.
What Else Can You Do With These?
Lots. For starters, ever drip candle wax? Let it dry and simply scrap off the hard wax. Viola. Got a tippy chair? Forget a matchbook. Use a bamboo scraper. Learn what other customers have found to do with this simple little tool. Read our customer reviews for a few ideas. 
We also share numerous uses for our scraper on this blog post. And when winter rolls around, it's a handy item to keep in your glove box for quick ice scraping. More ideas can be found here. 
As it says, right there on the box, 'It's Not Just A Pot Scraper.'
It's worth picking up a few of these. You'll find they become one of your essential tools around the house. Purchase them from the company that designed them, bambu. The only certified organic bamboo Pots & Pans Scraper is here. Buy Here.
Or pick up our Scarf N Scrape pack. As we say, Before and After. You get a set of our trusty bamboo scrapers combined with equally trusty, and your ultra-portable eating tool, the bamboo Spork. 
It's in your hands. Grab 'em here.