Bamboo Tableware
Set your table with certified organic bamboo tableware. Our hand-finished collection of bamboo tongs, tabletop utensils, and trays make every meal a special occasion. Durable and attractive, bamboo tableware is designed to hold up to everyday use while looking event-ready. From unique utensils made for serving condiments, to coffee trays for relaxed mornings, our bamboo tableware collection will add the perfect touch of nature to your home and mealtime.
Shouldn't your tableware be as clean as the food you're serving and eating? We think so, which is why we designed a line of bamboo serving and eating tools that are free of chemicals and dyes. Sourced from our wild-grown bamboo forest in the Fujian Province of China, renewable bamboo is a naturally occurring alternative to petroleum-based tableware made from plastic or silicone. Our bamboo is certified USDA organic every year, and every piece we made is hand finished for a warm, smooth feel that you'll love to use.
The Bambu line of tableware was thoughtfully crafted to elevate daily use items. Whether you're enjoying a long-awaited gathering or simply sharing a quick dinner during a busy week, our durable and attractive bamboo tableware will help you celebrate time spent around the table. These pieces transition effortlessly between indoor and outdoor use. A drop and shatter-proof alternative to ceramic, this durable material is a great choice for families with younger children. With simple care, bamboo tableware will last you for years to come. And if you do need to refresh your bamboo tongs or other pieces, a simple rub with our all-natural finishing oil will have them looking like-new in no time at all.
When your bamboo tableware is ready to be retired, it's naturally biodegradable. Unlike other materials that can be difficult to recycle, and would otherwise last for years in landfills, our 100% Biobased bamboo tableware will return back to the soil once it's life in your home is over.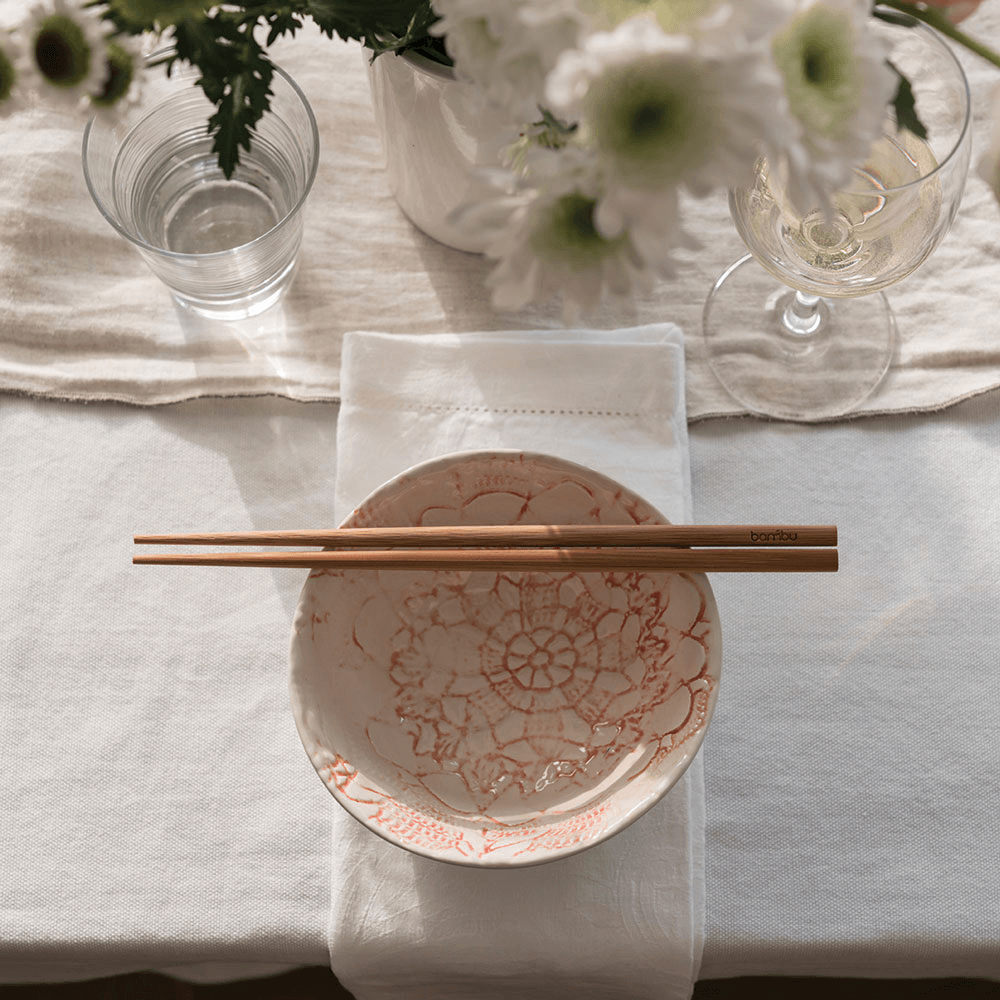 Our favorite bamboo tableware sets
Set of five reusable bamboo chopsticks
Why opt for single-use chopsticks when the reusable alternative is so much better? Our reusable bamboo chopstick sets are made from a single piece of USDA certified organic bamboo. Carefully hand-finished for smooth, splinter-free use, you'll love how these natural utensils look and feel in your hands. Bamboo has been used as an ingredient and cooking material in Asian cultures for centuries, and it's only natural to use this durable material to enjoy your meals, too.
Shop Now