Portland, OR – Bambu today announced its entire line of cooking utensils has been certified by the National Organic Program (NOP), a division of the United States Department of Agriculture (USDA), according to Bambu president Jeff Delkin.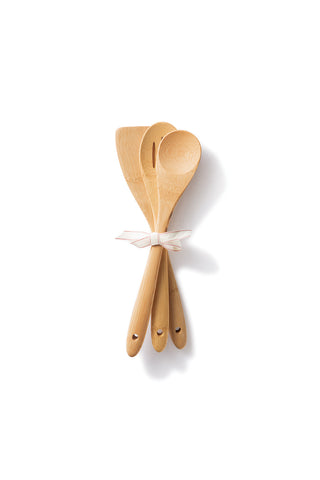 "For the past six years, our source of material has been certified organic," Delkin said. "Now, as a direct result of the more stringent production procedures we follow, our entire range of utensils—including the Essential Organic series, Give It A Rest series and our Bambu KIDS collection of children's feeding utensils—are NOP Organic Certified."
To certify its raw-material source Bambu worked with third-party certifier IMO Switzerland, which fully documents that Bambu's sources are not exposed to any fertilizers and pesticides. IMO does an annual physical audit of the source of Bambu's raw material. The utensils are hand-cut and finished by Bambu's 12-person production team in its own facility, located close in proximity to its materials source—a truly vertically integrated model.
"We felt a need and responsibility to offer our customers safe, non-toxic products," Delkin said. "Bambu was the first in its industry to have its source certified by IMO in 2006."
U.S. families are increasingly embracing organic products in a wide range of categories, with 81 percent now reporting they purchase organic at least sometimes.
With roots in Portland, Oregon, since 2003 Bambu has designed, developed and manufactured handcrafted, modern home products made from renewable materials such as bamboo, cork, coconut, hemp and soy. The company is headquartered in Shanghai, China, where it produces more than 150 different products in its own production workshop and partnering facilities, all of which are located close to their raw-materials sources. Bambu products are sold in more than a dozen countries through diverse retail distribution partnerships in the gift, kitchen, gourmet, grocery and hospitality market segments. The company is a member of Green America and its Green Business Network, and manufactures using organic sources certified by IMO Switzerland. A selection of Bambu's products is USDA Biobased-certified. 
###