| Read |
Did You Know That Cooking Can Boost Your Mood? Here's Why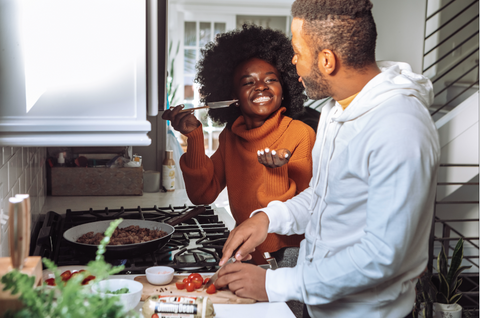 Been feeling a bit overwhelmed lately? Find some respite right at home, in your kitchen. By focusing the mind and boosting connection, cooking and eating at home can help improve your mood and overall health. Plus, with the first sprouts of summer just around the corner, it's a flavorful way to let off some steam.
| Watch |
Discover the art of timber framing, one of the oldest and most sustainable building methods on earth. This short film follows a group of female builders who are focused on reframing how we build, and empowering other women in the process.
| Do |
Get Your Hands Dirty In Your Local Community Garden
Don't have a backyard, or aren't ready to tackle a garden on your own? You can still dive into the local food movement! Use this handy map to find a community garden near you. And if you have a plot of land that you'd like to put to use, you can submit it and help the community garden movement grow.
Have You Met Our New Collection?

After years of research, design, and thorough testing, we couldn't be more excited to share our latest set with you. Four entirely plant-based, plastic-free tools meant to offer a complete solution to home cleaning. And, one that looks good enough to earn a spot on your countertop.

Explore The Cleaning Collection
From The Blog...
Why It Took Two Years To Make Our Eco-Friendly Cleaning Tools

A lot goes into designing a truly clean line of new products. From finding the right materials to gaining the certifications that you know and trust, here's what it took to bring our all-new line of plastic-free, compostable cleaning tools to life.

The Seven Best Eco-Friendly Cups For A Low-Waste Celebration

As the makers of the first and only compostable, organic bamboo dinnerware, one of our most commonly asked questions is "what cups do you recommend to match?" These are our top suggestions for disposable (and reusable) solutions.
One Last Bit Of Good News...
Each month, The Shift shares positive gains within the environmental movement, gives you tips to create an eco-friendly lifestyle, and shares the stories of changemakers that are using their voices for good.